Financial Number: 449323-1-52-01
Project Limits: State Road (SR) 60/ Indian River Boulevard from North of Canal Bridge to West of Merrill P. Barber Bridge
Project Length: 0.43 Miles
County: Indian River County
Design Start Date: Fall 2021
Design Completion Date: Fall 2023
Projected Letting: Spring 2024
Estimated Construction Start: Summer 2024
Estimated Construction End: Summer 2025
Estimated Construction Cost: $1.5 million
Scope of Work:

Signalize and extend the northbound right-turn lane
Convert the southbound striped-out lane to a second left-turn lane
Upgrade traffic signals and pedestrian push button countdown detectors
Upgrade lighting at the pedestrian crosswalk
Construction Impacts:

Work will be done in phases to reduce the effects of construction on traffic
Single lane closures will be allowed during off-peak hours and non-event days
Public Notice: The design Public Information Meeting will be offered in two formats: virtual and in-person. The public meeting will include a formal presentation followed by a question-and-answer session.
The public meeting is scheduled for Tuesday, June 27, 2023, at 5:30 p.m. The meeting will take place at Vero Beach City Hall located at 1053 20th Place, Vero Beach, Florida 32960.
To participate virtually from your computer, tablet or smartphone please register using the link: https://bit.ly/SR60IndianRiverBlvd_PM. Participants can also use their phone by dialing in to +1 (562) 247-8422 Access code: 463-533-755.
Project Manager:
Documents:

Project Presentation
Project Location Map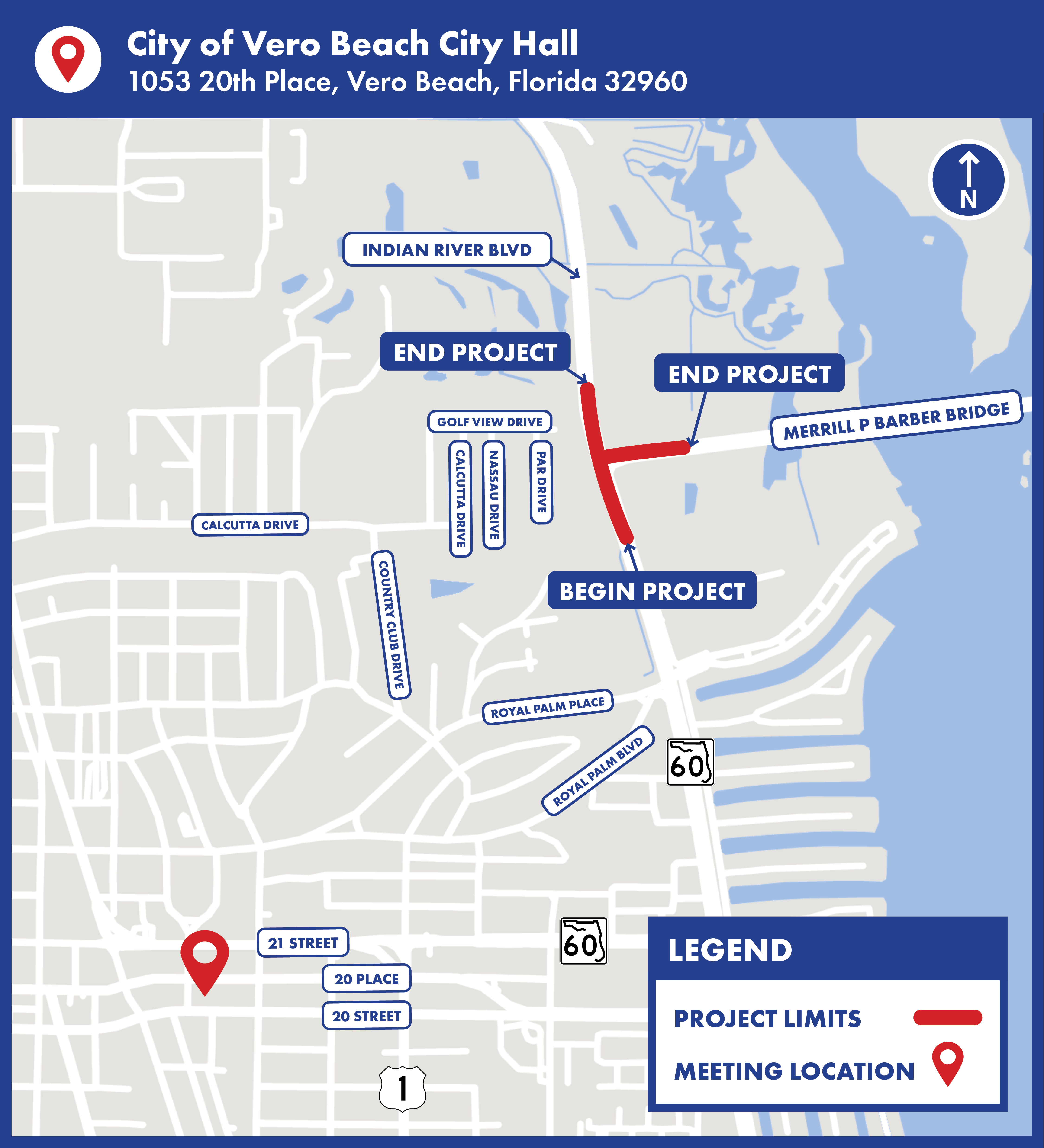 Click here for upcoming lane closures